Contact-Free Thickness Meter Emios
 


This meter pursues user-friendliness in an uncomplicated manner with "one step operation" such as just placing a sample on the tray for quick analysis.

This meter aims to streamline the inspection process by easily measuring absolute thickness without a calibration curve, with high precision and with high resolution.

Due to our unique optical geometry being designed as compact, this meter carries out non-contact measurement with high precision of even opaque, rough surface and/or flexible samples.
Product
Specifications
Configuration
Comparison
Examples
Product
Features
Instantaneously obtain absolute thickness values in digital form, without a calibration curve.
The distance measurement is carried out with `light` to provide high repeatability, high accuracy and high resolution.
Compact and space-saving due to our unique design.
The minuscule measurement spot has an advantage for measurement of uneven thickness 'mura'.
Specifications
Specifications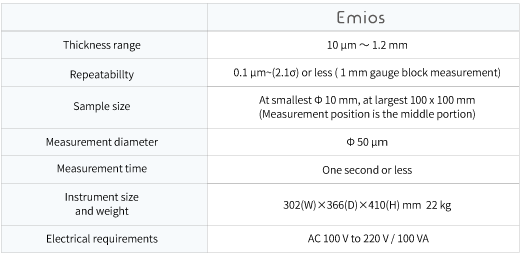 Configuration
Configuration
Anyone can use easily as "one step operation".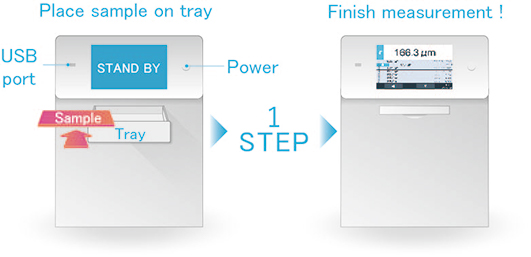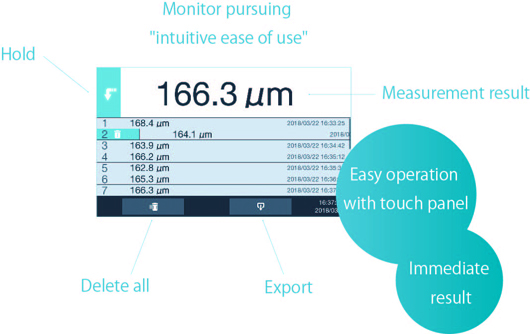 Principle
Irradiate the front side and rear side of the sample with light and measure the distance from the reference surfaces.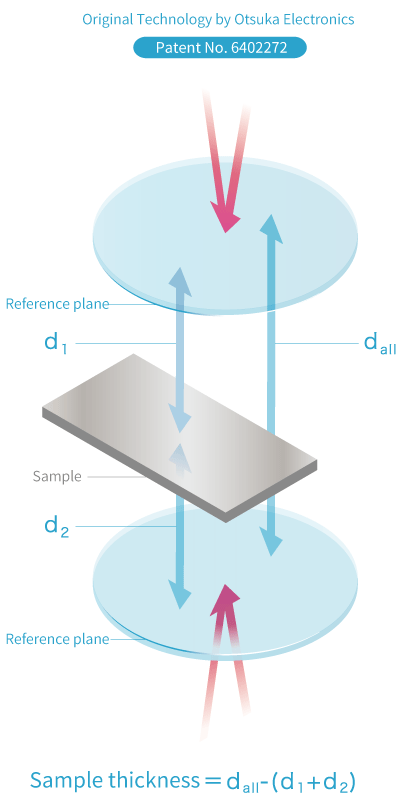 Comparison
Examples of samples and comparison of measurement methods
Emios
Contact- type thickness meter
X-ray thickness meter
Displacement
meter
Samples
Gel sheet
○
×
○
○
Non-woven fabric
○
×
○
×
Metallic plate
○
○
○
○
Resin
○
○
○
○
Porous material
○
△
○
×
Ceramic
○
○
○
×
Paper/wood
○
○
○
×
Measurement conditions
Measurement time
○ Fast
○
○
○
Non-contact measurement
○ Non-contact
×
○
○
Pre-treatment
○ Not necessary
○
×
○
Calibration curve
○ Not necessary
○
×
○
Height adjustment
○ Not necessary
○
○
×
Examples
Measurement examples



Product
Specifications
Configuration
Comparison
Examples
Related Information
Related Product