Message
Under Otsuka Group's corporate philosophy "Otsuka-people creating new products for better health worldwide", Otsuka Electronics, a company that provides solutions with the power of optics and cutting-edge technologies, develops, manufactures and markets optical/medical/industrial measurement devices and equipment.
 Since the establishment of its predecessor company in 1970, Otsuka Electronics has explored the true needs of patients, health professionals, corporations, research institutes, and has thought out what Otsuka Electronics is only capable of achieving and what no any other company can realize, but Otsuka Electronics, to meet such needs. We have created unique products using our optical measurement technology, which measures the colors and brightness of light, forms and thickness of materials, and sizes of particles, as well as diagnosing people's health problems.

 People's lifestyles around the world are constantly changing. To respond to such changes and continue to be a company offering products that are more valuable to our customers, each member of Otsuka Electronics needs to apply a variety of ideas and knowledge, and value one another. All the employees will challenge to develop technologies that are not yet well known or that no other companies can come up with.

 Articulating a vison, "A company blazing a new path to a bright future with lux 'Hikari'," and a mission, "We support the health and life of people worldwide with optical analysis technology," we will continually contribute to the society by creation of new values unique to Otsuka Electronics.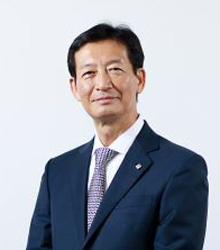 President
Otsuka Electronics Co., Ltd.