Color Filter Spectral Inspection System LCF series
Products
Specification
Measured Data
Products
Supports all tests in the color filter manufacturing processes in terms of transmission spectrum measurement, color measurement, concentration measurement, film thickness measurement, and reflection spectrum measurement.
Can be used for various evaluations including optical-property analysis for color filters and thin-film analysis for films on glass substrates.
The automatic focusing function and the automatic pixel alignment function enable highly precise measurement. Also, supports fully automated tests by recipe registration.
Measuring Item
Color Filter Evaluation
Color measurement
(Transmission spectrum)
Chromaticity
(XYZ, xy, Lab, L*a*b*, u'v', u*v*)
Color difference, White balance
Reflectance *
Density (OD) *
Pixel width*
Auto focus, Auto alignment*
Thickness Measurement
Film thickness
Film quality analysis
(Optical constant -
n:Refractive index, k:Extinction coefficient)
* Option
Applications
R, G, B, ITO, PI, PR, OC, BM
Specification
Specification
Type
LCF series
Sample Size
50mm×50mm ~ *
Detector
Multi-channel spectrophotometer, PMT option
Image processing
CCD camera and monitor
Auto focus, Auto alignment
Sample stage
X-Y-Z stage, automatic or manual motorized
* Supports large sized glass substrate over (3000mm×3000mm)
Measured Data
R,G, B measurement of color filter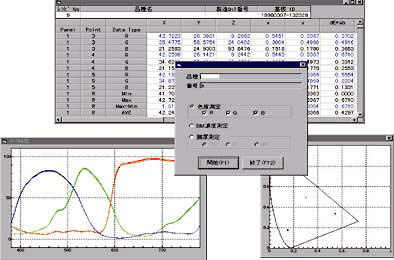 Products
Specification
Measured Data
Related Information
Related Product