Capillary Electrophoresis System Agilent 7100
Product
Principle
Specifications
Examples
Product
Features
Excellent technical support with a wealth of applications such as buffer manuals
This single system can analyze mixtures including cations and anions
Even if sample is a limited amount, it can be analyzed with high speed and resolution
3 to 5 times higher sensitivity without loss of resolution using ` bubble cell capillary`
In most cases pretreatment is unnecessary even in the presence of counter-ions and/or contaminations
Economical and environmentally friendly because no expensive columns and/or solvents are used
Principle
Principle and procedure
Capillary electrophoresis is a qualitative and quantitative analytical method of the separated components by performing electrophoresis in a capillary tube with an inner diameter of 100 μm or less.
[Procedure]
Fill the capillary tube with the migration solution.
Inject the sample into the capillary tube.
Immerse both ends of the capillary tube into the migration solution and apply a high electric field.
Each component is separated while migrating by electrophoresis.
Each component is recorded as a peak in the order of reaching the detector.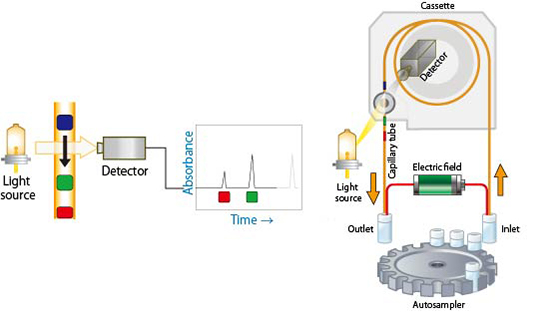 Electro-osmotic flow acting as a pump
Normally, the inner wall of a capillary tube is negatively charged by the silanol group, which causes cations in the liquid to collect on the wall. When an electric field is applied, these cations migrate to the negative electrode with the solvent in tow. This flow is called electroosmotic flow and acts like a liquid chromatographic (LC) pump. The sample undergoes electrophoresis while flowing with the electroosmotic flow, and each component is separated according to differences in charge and Stokes radius.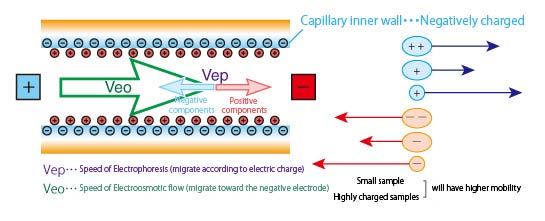 Specifications
Power source
 Long-life deuterium lamp(With RFID tag)
Detector
 Real time UV-Visible diode-array detector
Wavelength range
 190 ~ 600 nm
Precision
 1 nm
Electrophoresis power
 Voltage range: 0 ~ ±30 kV 、 Current: 0 ~ 300 μA 、
 Power: 0 ~ 6 W
 Operates at constant voltage, current and power.
 Polarity can be reversed by program.
Power source
 AC 100 ~ 240 V 、 50/60 Hz 、 300 VA
Dimensions(WDH)
 350 × 590 × 510 mm
Weight
 35 kg
Examples
Cation analysis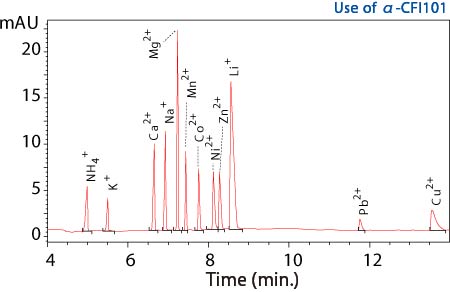 Cation and amine groups analysis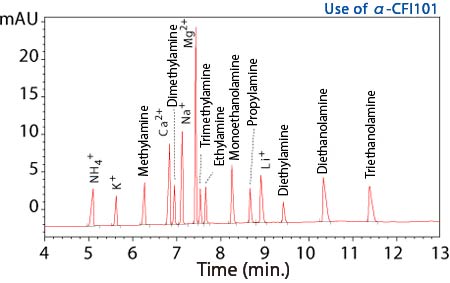 Organic acid analysis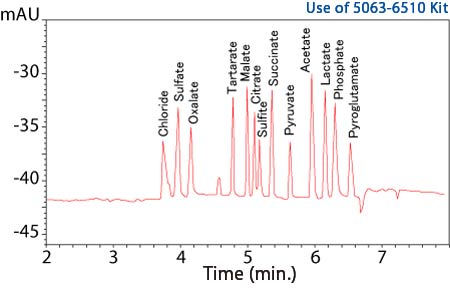 Inorganic anion analysis
Anion group and organic acids analysis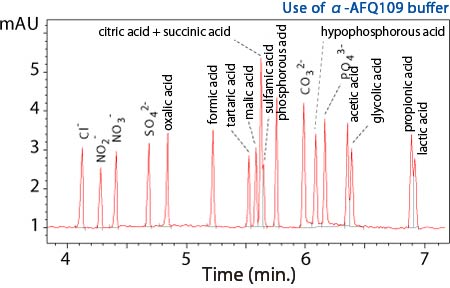 Plating solution simultaneous analysis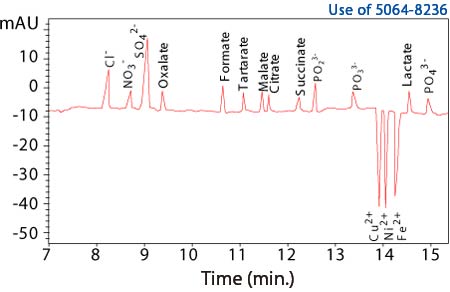 Simultaneous analysis of inorganic anion, organic acids, amino acids, and sugars (43 components)

Product
Principle
Specifications
Examples
Related Information