Multi-Sample Nanoparticle Size Measurement System nanoSAQLA
This is a particle size measurement system (particle size 0.6 nm - 10 μm*) that uses the `dynamic light scattering method` (DLS method).
Various functions are included to further improve quality control.
It measures in high speed (approx. 1 minute) and it is also lightweight and compact which is essential for use in laboratories, and this new optical system is able to measure multiple samples at one time with a wide concentration range from dilute to concentrated.

In addition, it is a new product not immersed in the liquid (non-immersion type), so contamination is not an issue and up to 5 samples can be measured without stopping, when used without the autosampler.

*Minimum value with histogram analysis : 0.2 nm

Are you interested in alliance or distributorship for this product?
Product
Specifications
Examples
Product
Movie
Features
■Features of nanoSAQLA
Simple and quick one-time setup of up to 5 samples each under different conditions.
Measures both dilute and highly concentrated samples
Measures in approximately 1 min +
Includes temperature gradient function
Contamination-free continuous measurement
Measurement range(theoretical value)
Particle Size range 0.6 nm-10 μm*
Applicable concentration range 0.00001-40 %
Temperature range 0-90℃



*

Minimum value with histogram analysis : 0.2 nm
Specifications
Specification
Model
Multi-Sample Nanoparticle Size Measurement System
Principle
Dynamic light scattering method
Light source
High power semiconductor laser *1
Detector
Highly sensitive APD
Successive measurement
Up to 5 samples
Measurement range
0.6 nm - 10 μm

*2

Corresponding concentration
0.00001 - 40 % *3
Temperature
0 - 90℃ (with gradient function) *4
Size
240(W) X 480(D) X 375(H) mm
Weight
About 18 kg
Software
Analysis of average particle size (Cumulant approach)
Analysis of particle size distribution
(Marquardt algorithm/NNLS/Contin algorithm/Unimodal algorithm)
Overlap of particle size distribution
Inverse correlation function/residual plot
Particle size plot
Range of displayed particle size (0.1 - 106 nm)
Function to calculate molecular weight
Option
Micro volume cell
(samples 20 μL and up), band-pass filter
*1 This product is classified as class 1 according to IEC 60825-1/JIS C 6802
  laser safety standards
*2 Minimum value with histogram analysis : 0.2 nm
*3 PS Latex Particle:0.00001 - 10 % Taurocholic acid:-40 %
*4 0 - 90℃ with glass cell with batch cell holder,15-40℃ with 5 attached cell holder
or disposable cells
Examples
Continuous measurement of 5 samples of different solvents
Particle size evaluation of alumina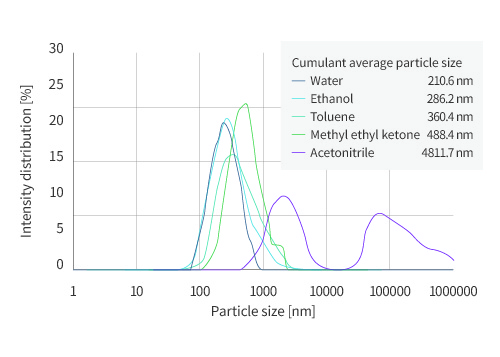 Measurement using temperature gradient function
Temperature dependency of particle sizes of bovine serum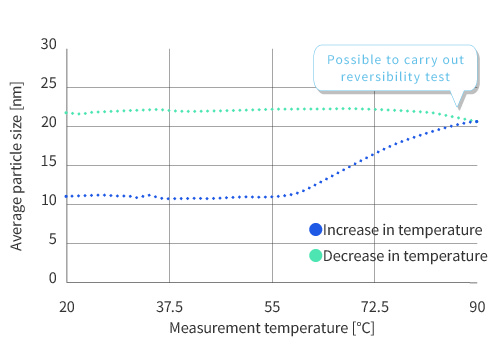 Measurement over a wide particle size range
(Fine particle): Particle size evaluation of 0.6 nm thiamine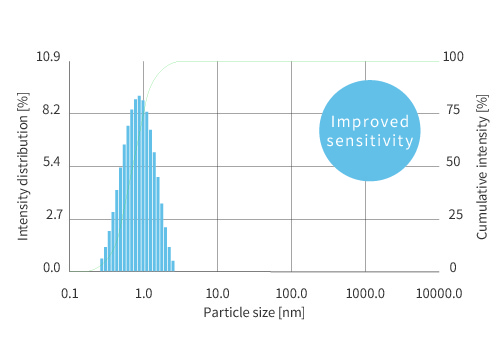 (Large particles): Particle size evaluation of 10360 nm latex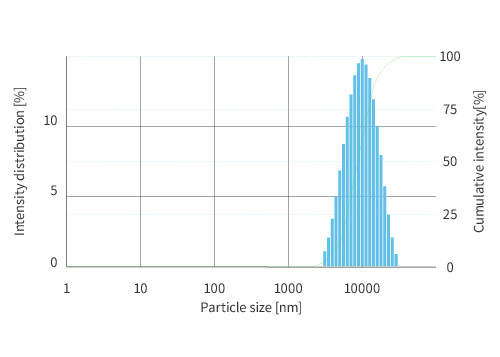 Product
Specifications
Examples
Related Information
Related Product