Array Spectrometer MCPD-9800
Multipurpose spectrometer covering UV to NIR wavelength range. Shortest integration time is 5ms. Using optical fiber, various measurement optics can be configured for versatile application, including micro spot spectrum, light source, transmittance, reflectance, object color and thickness measurement.

Are you interested in alliance or distributorship for this product?
Product
MCPD-9800
MCPD-6800
Applications
Product
Feature
Choose best suitable model on your need
There are three models with twelve wavelength ranges, including flag ship model of MCPD-9800. No matter what customer needs and application, we propose best suitable model to you.。
USB and LAN as communication interface
General purpose USB port and LAN port equipped for user's convenient and wider application.
High speed and high sensitivity spectrum acquisition
Monitoring UV/VIS/NIR spectrum with either 512ch or 1024ch detector at 5msec interval is possible with high speed and high precision.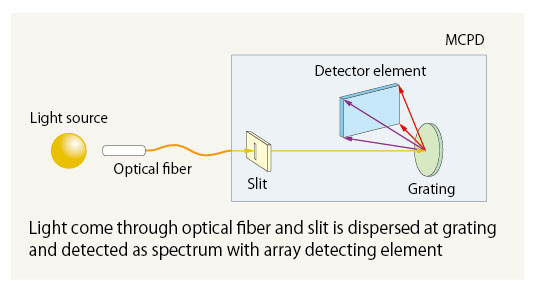 Flexible optics configured with optical fiber.
Using standard optical fiber, flexible optics can be configured without any restriction of sample shape and sizes. Besides, microscope and large sample stage can also be integrated, achieving superior performance in any industrial fields
Trustworthy
Highest performance complying with Japan Industrial Standard (JIS)
MCPD series satisfies every required accuracies for spectrophotometer based on.
Japan Industrial Standard, JIS Z 8724
(Methods of color measurement – Light-source color)
Precision of wavelength scale
Linearity and repeatability of response
Stray light
Effective light-intercepting face of polychromator
Collimating optical system
Optical Measurement Evaluation Center (JCSS/JNLA)
Otsuka Electronics is accredited as optical calibration service provider compliant with JCSS(Japan Calibration Service System)
Also accredited as international MRA (Mutual Recognition Arrangement) compliance calibration service provider.
Provides optical traceability which is required for measurement of lighting products
And accredited as test provider for optical performance evaluation for LED and general lighting products based upon JNLA (Japan National Laboratory Accreditation System)
Also accredited as international MRA compliance JNLA test provider.
Provides evaluation data compliant with JIS(Japan Industry Standard) of optical property measurement , in order to fairly evaluate lighting products
Otsuka Electronics contributes to recognition and growth of eco-environment friendly lighting appliances by providing optical measurement traceability and its technologies.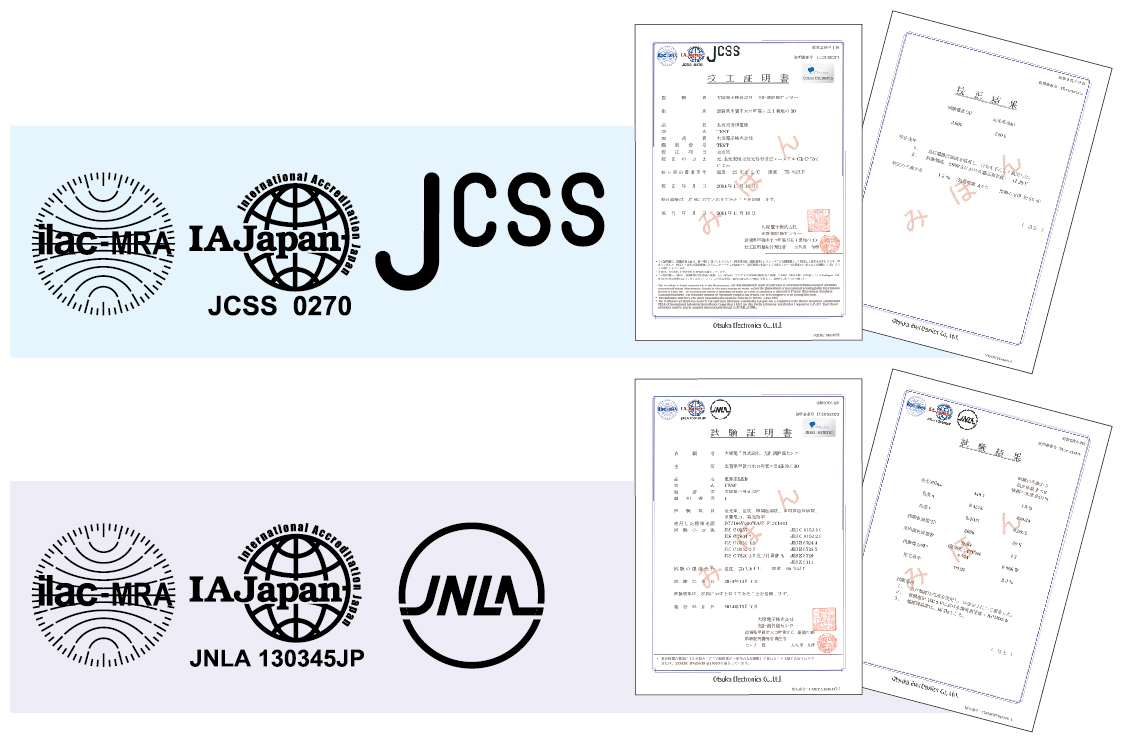 Customization
Satisfy versatile customer needs
Otsuka Electronics provides customer cutting edge and turnkey solution using long expertise and wide knowledge, as well as various optical accessories,optional unit and analysis software.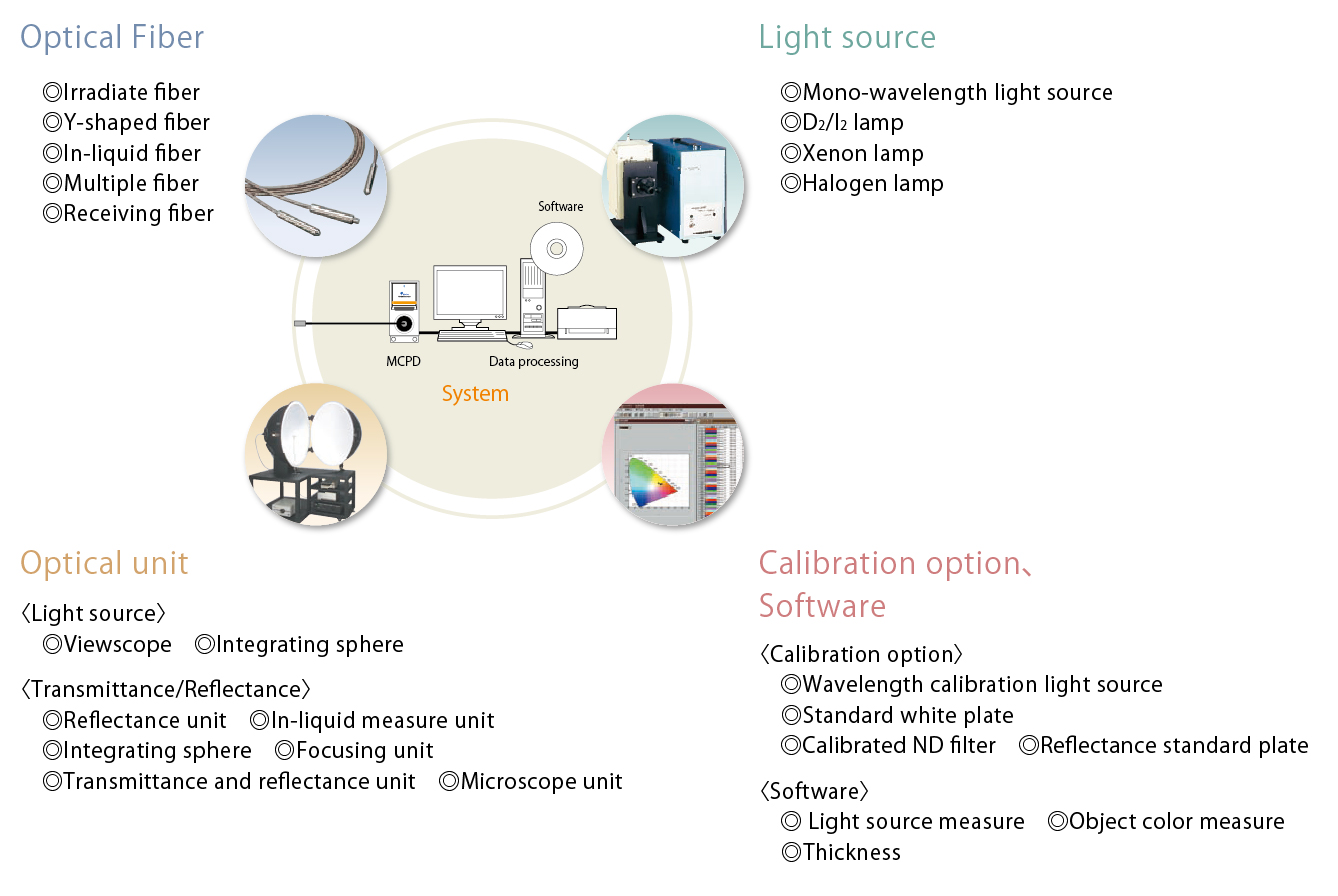 MCPD-9800
Array Spectrometer MCPD-9800
Feature
Wide dynamic range suitable for luminous flux measurement
Stray light correction function equipped for UV measurement. Now only 20% of stray light level compared to last generation model
Wide integration time range between 5msec and 65sec, suitable for very weak light source, high speed needs and production line
Equipped scrambling fiber to achieve high reproducibility.
Light weight and compact. 60% downsizing from last generation model.
Measure item
Luminescence Spectrum
Transmission/Absorption Spectrum
Reflection Spectrum
Photoluminescence
Object Color
Light Source Color (Chromaticity, Luminance, Illuminance)
Film Thickness
Plasma Emission Spectrum
Specification
Model
MCPD-9800
2285C
3095C
3683C
311C
916C
Wavelength Range(nm)
220~850
300~950
360~830
360~1100
900~1600
Spectroscope
Flat Field Type
Detector
(ch)
Electro-cooling CCD Image Sensor

Electro-cooling
InGaAs
Image Sensor

512
1024
512
1024
512
1024
512
1024
512
Theoretical Resolution
(nm)
1.4
0.7
1.4
0.7
1.0
0.5
1.6
0.8
1.9
Optical Fiber
Quartz Scramble Fiber,φ12 mm, 2 meter long
Ge-doped
Quartz Fiber,
2 meter long
Integration time
5ms~20s
1ms~10s
Interface
USB or LAN
Power and voltage
125VA, Single phase AC100-240V 50/60Hz
Size and weight
105(W)×230(H)×280(D)mm, 6kg
MCPD-6800
Array Spectrometer MCPD-6800
Feature
MCPD-6800 is entry grade spectrometer for spectrum measurement and analysis. Using optical fiber and various accessories, flexible measurement optics can be configured for versatile user application. Wavelength range can be chosen from four types.
Measure item
Luminescence Spectrum
Transmission/Absorption Spectrum
Reflection Spectrum
Photoluminescence
Object Color
Light Source Color (Chromaticity, Luminance, Illuminance)
Film Thickness
Plasma Emission Spectrum
Specification
Model
MCPD-6800
2285C
3095C
3683C
3610C
Wavelength Range(nm)
220~850
300~950
360~830
360~1000
Spectroscope
Flat Field Type
Detector
(ch)
Electro-cooling PDA
512
512
512
512
Theoretical Resolution
(nm)
1.5
1.5
1.1
1.7
Optical Fiber
Quartz Fiber φ12 mm, 2 meter long
Integration time
16ms~65s
Interface
USB or LAN
Power and voltage
100VA, Single phase AC100-230V 50/60Hz
Size and weight
105(W)×215(H)×280(D)mm, 5.5kg
Applications
Luminescence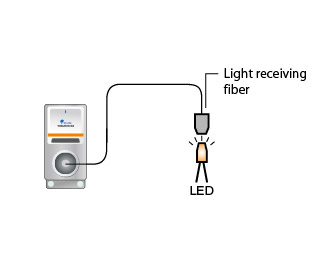 Applications


◎Luminescence and Photoluminescence
◎PDP fluorescence measurement
Luminous flux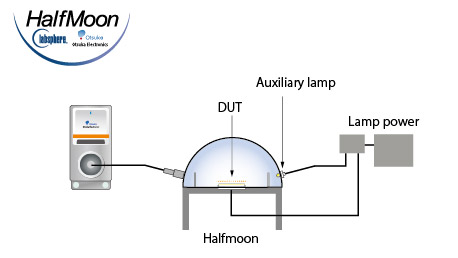 Applications


◎Luminous flux of LED and EL
Goniophotometer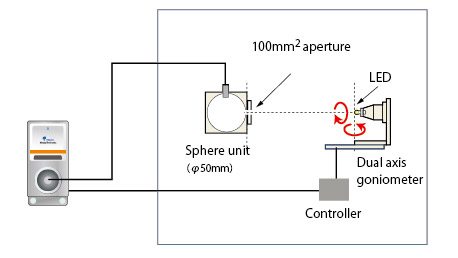 Applications


◎Spectrum distribution by angle using motorized goniophotometer
◎Angle dependent distribution of light intensity and color
Surface color measurement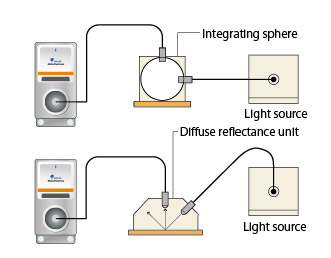 Applications
◎Color control and test of painted surface
◎Paper and printed materials
◎Textile, powder and plastic
Reflectance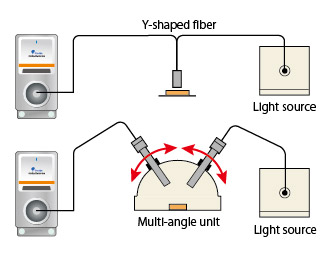 Applications


◎Surface characteristics of optical material and reflector
◎Glasses
◎Anti reflection film
Transmission / Absorbance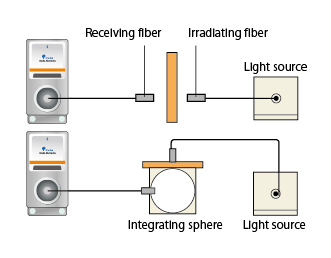 Applications


◎Color control and test of painted surface
◎Paper and printed materials
◎Textile, powder and plastic
Thickness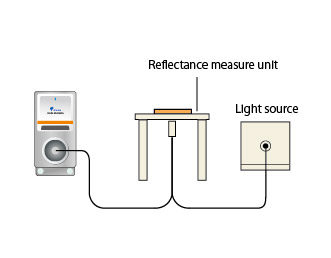 Applications


◎Thickness of film and coating on various substrate such as wafer, glass and aluminum
Microscopic measurement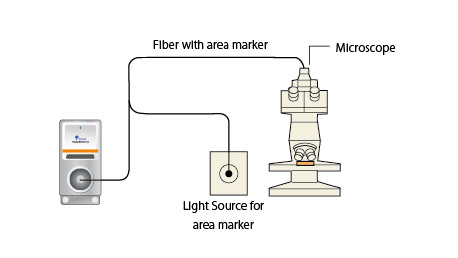 Applications


◎Micro spot measurement under microscope (Reflectance, Transmittance, Absorbance)
◎Thickness of various film and coating
Solution measurement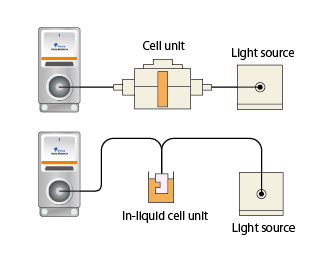 Applications
◎Absorption spectrum of various solutions
◎Concentration of solved materials
Multi point measurement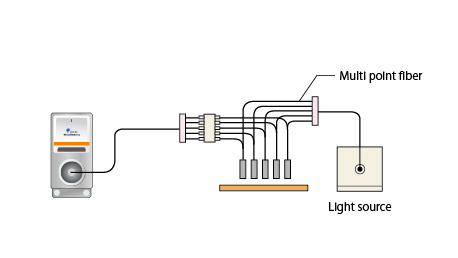 Applications


◎Reflectance spectrum of anti reflection film
◎Coating film
◎Films on various substrate
Production line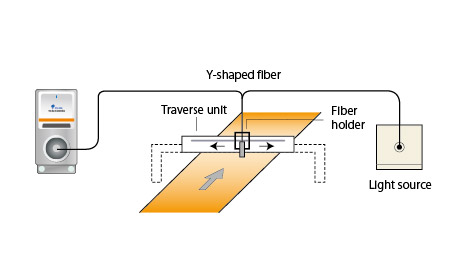 Applications


◎Thickness and reflectance of anti reflection film
◎Quality control of function film
Product
MCPD-9800
MCPD-6800
Applications
Related Information