Thickness Monitor FE-300
A film thickness measurement system based on the high precision spectrophotometry features compact size and affordable price. Every necessary component is built in one body for stable measurement data. Although offered at affordable price there is no compromise on accuracy and even optical constant analysis is possible.

Are you interested in alliance or distributorship for this product?
Product
Principle
Specification
Configuration
Measured Data
Product
Feature
Wide film thickness range (1nm~1mm)
Thickness measurement using reflection spectrum
Compact and affordable without compromising high precision
User friendly software interface.
Analytical algorisms are Peak-Valley Method, Fast Fourier Transformation (FFT) Method, Non-linear Least-Squares Method and Optimization Method.
Optical constant analysis (n: Refractive index, k: Extinction coefficient) with Non-linear Least-Squares Method
Measure Item
Absolute reflectance
Film thickness(Up to 10 layers)
Optical constant(n: Refractive index, k: Extinction coefficient)
Application
Function film, Plastic
Transparent film(ITO, Silver nanowire) Retardation film, Polarization film, AR film, PET, PEN, TAC, PP, PC, PE, PVA, Adhesive, Protect film, Hard coat
Semiconductor, Compound semiconductor
Si, oxide film, nitride film, Resist, SiC, GaAs, GaN, InP, InGaAs, Leadframe, SOI, Sapphire
Surface treatment
DLC, Anti-rust, Anti-fog additive
Optical materia
Filter, AR coating
FPD
LCD(CF, ITO, LC, PI, PS), OLED
Others
HDD, Magnetic tape, Construction material
Principle
Principle
Otsuka Electronics provides non-contact and non-destructive thickness measurements with high accuracy using light interference method and own high performance spectrometer. Light interference method is the optical thickness analysis technique using the reflectance in the spectrophotometer optics. Given an example of the coated film on metal substrate, the beam irradiated from above reflects on the coating surface (R1).Also, transmitted beam reflects on the substrate or boundaries (R2). From the light interference behavior caused by optical path difference and phase shift, film thickness can be calculated using reflectance spectrum and refractive index. Analytical algorisms are Peak-Valley Method, Fast Fourier Transformation (FFT) Method, Non-linear Least-Squares Method and Optimization Method.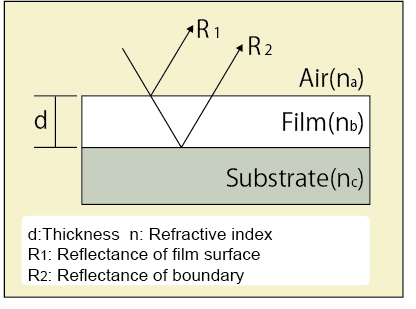 Specification
Specification
Model
FE-300V
FE-300UV
FE-300NIR*1
General
Standard
Thin film
Thick film
Thick film
 (High resolution)
Sample size
Maximum 8 inch wafer (5mm thickness)
Thickness range
 (nd)
100nm~40μm
10nm~20μm
3μm~300μm
15μm~1.5mm
Wavelength range
450nm~780nm
300nm~800nm
900nm~1600nm
1470nm~1600nm
Accuracy
±0.2nm*2
±0.2nm*2
-
-
Repeatability
0.1nm*3
0.1nm*3
-
-
Measure time
0.1s~10s
Spot size
Approx φ3mm
Light source
I2
D2 + I2
I2
I2
Interface
USB
Size, Weight
280(W)×570(D)×350(H)mm, Approx.24kg
Software
Standard
Peak-valley method, FFT analysis, Optimization,
Non-linear least square method
Optional
Material analysis software, Post analysis software,
Recipe create , Reference plate
*1 Ask for detail
*2 To guaranteed value of VLSI thickness standard(100nm SiO2/Si)
Configuration
Configuration / Optics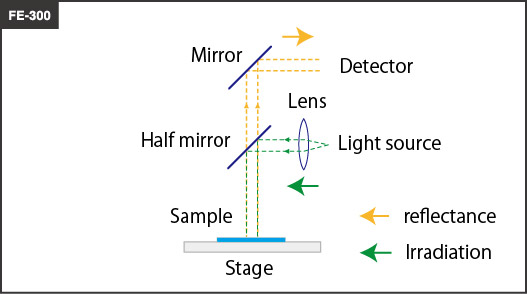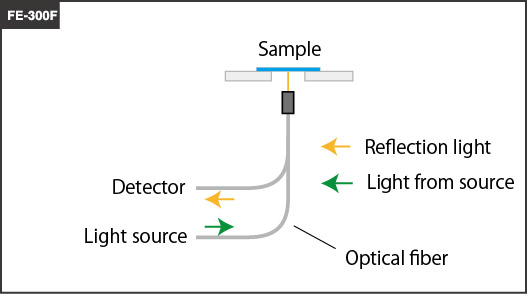 Software
Measure Menu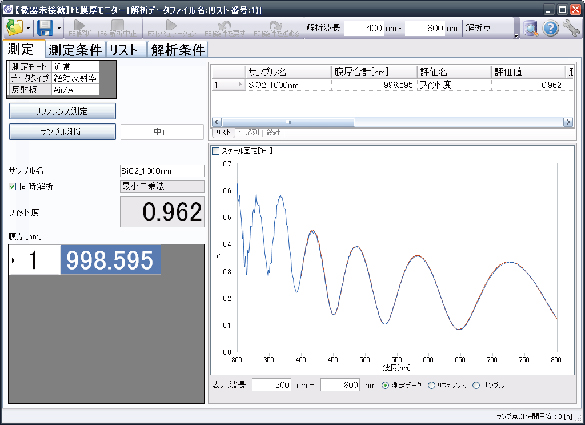 Analysis Condition Setting Menu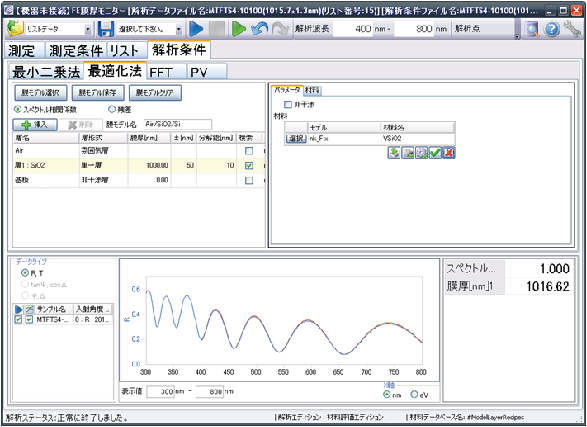 Measured Data
SiO2 SiN Thickness Measurement --- Application Sheet FE0002
The semiconductor transistor transmits signals by controlling the current conduction state. There is a built-in insulation film in between the transistors to prevent the current leakage and to avoid the accidental current inflow from another transistor. The insulation film is made of SiO2 or SiN. SiN has higher dielectric constant than SiO2 and can be used as a stopper to remove unnecessary SiO2 in CMP. To assess the efficiency as an insulation film and to keep the precise process management, it is mandatory to make a measurement of these film thicknesses.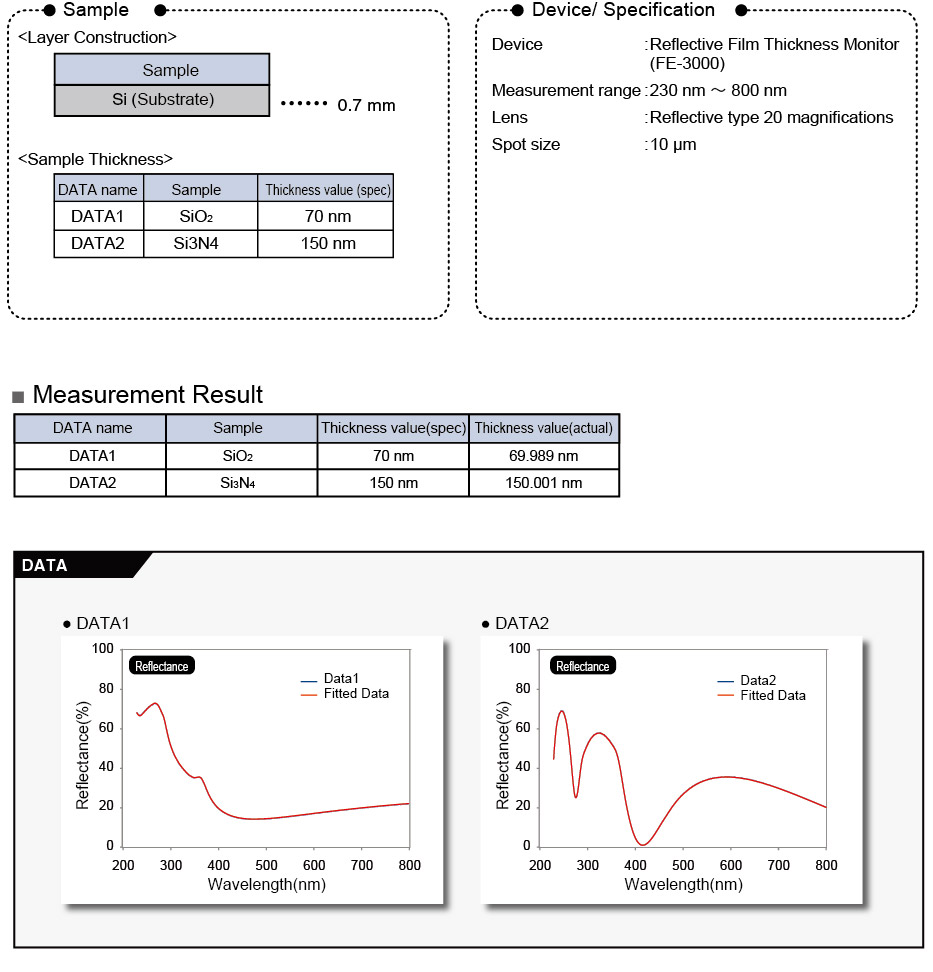 Product
Principle
Specification
Configuration
Measured Data
Related Information
Related Product