Optical Thickness Meter OPTM series
This instrument enables extremely precise analysis of film thickness and optical constants by measuring absolute spectral reflectance of microscopic regions.
Non-destructive and non-contact thickness measurement can be carried out on multilayered films and various coating layers including films, wafers, and optical materials.
Measurement speed is as fast as 1 second / point. Software is easy to use even for beginner users analyzing optical constants.

Are you interested in alliance or distributorship for this product?
Product
Specifications
Configuration
Product
Features
All functions necessary for film thickness measurements are integrated in the head
Highly accurate absolute reflectance measurement using microspectroscopy (thickness of multilayered film and optical constants)
High speed measurement of less than 1 second per point
An optical system which makes possible measurement with a wide wavelength range (UV to NIR) using microscopy
Safety mechanism with area sensors
Easy Analysis Wizard which allows anyone- even untrained operators, to carry out the analysis of optical constants without difficulty
Software program includes macro functions for customization of the measurement sequence
Various customizations are possible
Complex optical constants can also be analyzed
(multi-point analysis)
300 mm stage available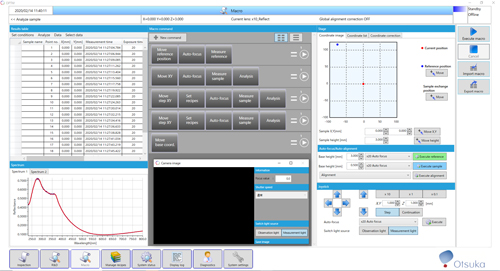 The measurement sequence can easily be customized depending on the shape and/or the position of the sample.
Measurement Items
Absolute reflectance measurement
Thickness analysis
Optical constant analysis (n: refractive index k: extinction coefficient)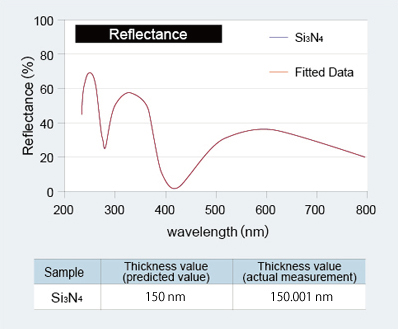 Specifications
Specifications
Type
OPTM-A1
OPTM-A2
OPTM-A3
Wavelength Range
230 nm~800 nm
360 nm~1100 nm
900 nm~1600 nm
Film Thickness
Measurement Range*
1 nm~35 μm
7 nm~49 μm
16 nm~92 μm
Sample Size**
Max.200 mm×200 mm×17 mm
Spot Size
Φ5、Φ10、Φ20、Φ40
Notes:
 For Automatic XY stage type
 *Values are SiO2 equivalent thickness.
 **Please contact us for consultation concerning the 300 mm stage.
Type
Automatic XY
stage type
Fixed frame type
Built-in head type
Size (W×D×H)
556×566×618 mm
368×468×491 mm
210×441×474 mm
90×250×190 mm*
Weight
66 kg
38 kg
23 kg
4 kg*
Maximum power
consumption**
500 VA
400 VA
*Power supply unit
**Select voltage at purchase (AC 90 -110 V or 200-240 V)
Configuration
Configuration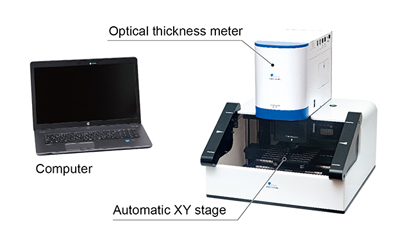 Automatic XY stage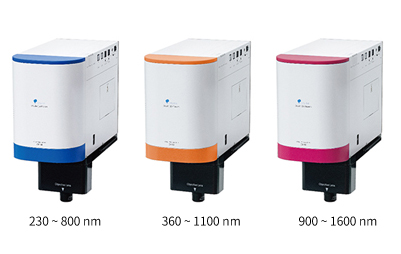 Built-in head-type
Product
Specifications
Configuration
Related Information
Related Product